Hill town Biei landscape and photographs International Forum Photo Exhibition
Many-layered huge hills that reach the foot of magnificent Tokachidake mountain range. The vividness of the golden wheat swaying in the breeze, the coloring of the potato fields that makes white small flowers bloom, the farm lands cultivated in the patchwork pattern surrounded by the windbreak forest and the beautiful scenery varied in four seasons, which endows sense of peace and deep impression to all who visit there.

The beautiful landscape of "BIEI, the town of hills" that everyone imagine was first found and introduced widely by the great photographer Maeda Shinzo and since then many photographers and people who love BIEI have visit there and enjoy taking beautiful photos and take them home with great memories.

"BIEI the town of hills" attract attention worldwide as a Mecca of landscape photographs. However, on the other hand, manners and rules for photographing the great landscapes are not widely known, and there is a problem to be solved to reconcile between agriculture and tourism, caused by the case of tourist`s entering farmland as a subject of photographs.

We must protect the great landscape created by our predecessors through their engagement in agriculture and forestry.

Nowadays many people visit BIEI for beauty, we will capture the beauty of BIEI in photos for the future generations, and also aim to create a community that enables everyone who visit BIEI to interact with local people through those beautiful photos.

With the united cooperation of all who love BIEI including both those who are living in BIEI and those who are visiting BIEI, we "BIEI the town of hills: Landscape Photography International Forum" wishes to disseminate the beauty of BIEI as well as the joy of taking eye-grabbing scenic photos not only to domestic Japan but also to the world.

Opening Ceremony
Congratulatory address by the mayor of Biei and ribbon-cutting ceremony
Greetings by the Chairman of NPO Biei Photographic and Video Association Hiroshi Iida
Congratulatory address: Hiroyuki Kakuwa, Mayor of Biei
Opening concert
Piano and video collaboration "Living in the Northern Land"
Piano: Yukiko Isomura
Video: Haruo Kikuchi
Photo talk
Speaker: Mr. Kazuyoshi Tanaka
Interviewer: Haruo Kikuchi
(Photographer・NPO Biei Photographic and Imaging Association Vice Chairman)
panel discussion
Coordinator Hiroto Sasaki, Former Editor-in-Chief of Asahi Camera
Shooting manners - To photograph and to be photographed
Panelists include farmers, tourists and photographers.
People from different postions exchanged opinions on the shooting manners and had a discussion.
KAZUYOSHI TANAKA Photographer

Profile
          
1958 Born in Tokyo
1981 Participated in new weekly photo magazine 「FOCUS」
2001 Moved to 「Weekly Shincho」
He has been in charge of illustraion(gravure) at 「Weekly Shincho」 for 20 years
Worked for Shinchosha Photography Department

Solo exhibition
2013: 「鉄路望景 Railway view」Cannon Gallery Ginza·Nagoya·Umeda
2015: 「高野山 -祈りとともに1200年- Koyasan-1200 years with a prayer」Olympus Gallery Tokyo·Osaka
2016: 「月下清影 Clear shadow under the moon 」 Canon Gallery Ginza·Fukuoka·Umeda
2019: 「佳景礼讃 Praise of fine scenery 」 Cannon Gallery Ginza·Osaka


photographer

Haruo Kikuchi
---
Biei four seasons
In 1995, moved from Tokyo to Biei Town and opened Haruo Kikuchi Photo Gallery in front of the「Hokusei-no-oka」Observatory Park.
In 2003, he started videography with a high-definition camera and is currently producing digital content with 4K video in addition to still photos.

● Member of Japan Professional Photographers Society
● Member of Japan Travel Photographers Association
● Hokkaido Photographer Network Member (NPO THE NORTH FINDER)


photographer

Shunichi Abe
---
The land of Biei drawn by the flash of light
Born in Kobe, graduated from Japan Institute of Photography and Film, the department of photography in 1995, advertising photography, portrait photography. After working as an instructor at Japan Institute of Photography and Film, he moved to Biei in 2001.

Currently, he is developing his work about the scenery of Biei.
● Member of Japan Professional Photographers Society
● Member of The Photographic Society of Japan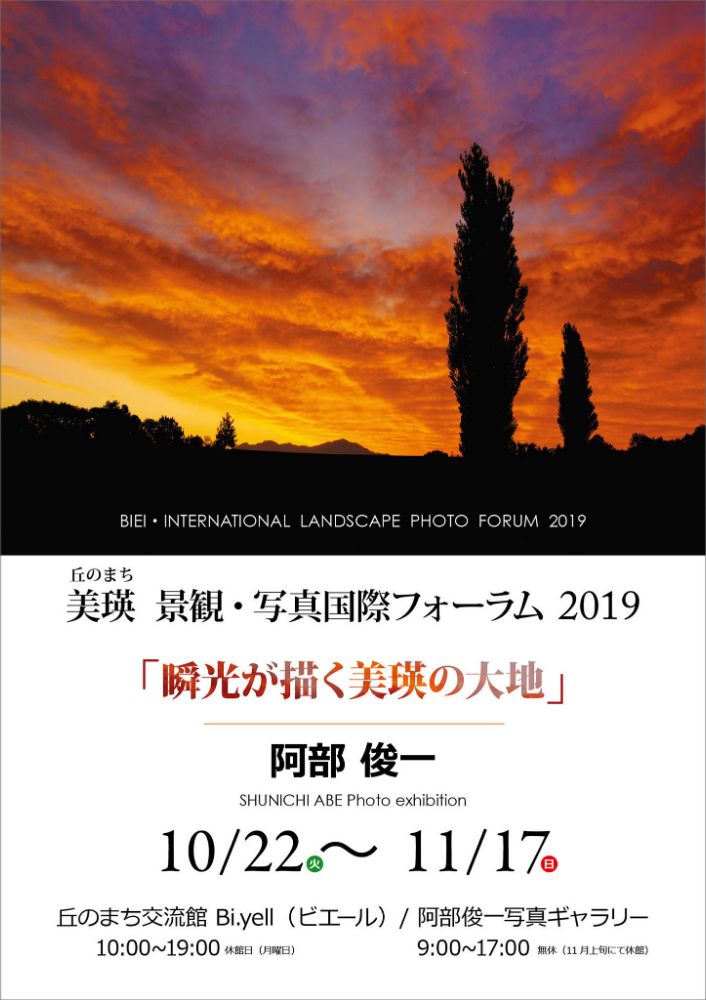 photographer

Toshiki Nakanishi
---
FARMLANDSCAPE
Born in 1971. He continuted traveling to Hokkaido while in school, and in 2012 he moved to Biei-cho, his shooting base, and started his career as a photographer.
Continues to produce works with the main themes of farming, light and houses.
● Member of Japan Scenery Photographers Association

● Leader member of Japan Scenery Photographers Association
● Mind ShiftGEAR ambassador
● Haglöfs Friends
● Hokkaido Photographer Network Member (NPO THE NORTH FINDER)


photographer

Hajime Yamazaki
---
A filmmaker who pursues light.
Born in Asahikawa, Hokkaido, and currently living in Biei.
Producing documentary of people, objects, and work while focusing on landscape videos.
From 2018, all videos are being shot in 8K.
Biei Photo Club
「Four seasons color 2019」
Biei Photo Group
「The dynamics of light」(Lively movement of the light)